Learn how to bring out that special pop in your picture
PhotoWalk Nepal, in association with Feature Studios, is organizing a Lightroom Workshop (Level 1)for all the photographer and photo editor. This is a 6-day workshop which will be instructed by wildlife photographer, Mr. Om Yadav.
Date: 22 to 28 December, 2016
Duration: 6 days (No class on Saturday)
Time: 5pm to 7 pm
Venue: PhotoWalk Nepal Studio, Kupondole, Lalitpur
Instructor: Om Yadav
Course Fee: NPR 6000/-
Number of participants: 12 (Limited seats)
Age: 14 years and above
Call us at 01 5525838 for more information.
Please fill up a printed copy of the registration form and submit it, along with the course fee, at PhotoWalk Nepal or Feature Studios by Dec 21st.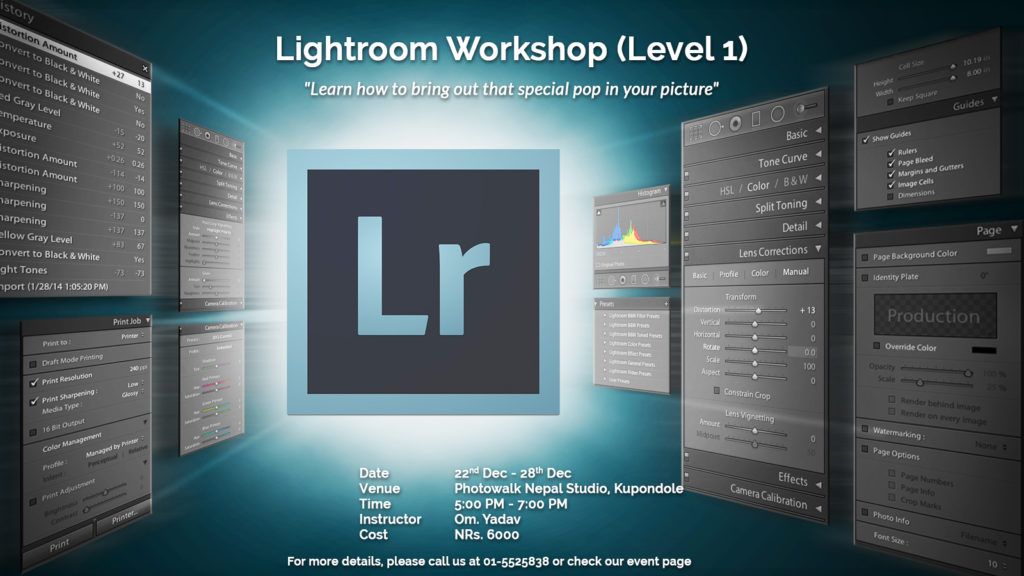 Course Outline:
Why use Lightroom?
Import and sort all your photos for maximum efficiency and storage.
Use all the essential Lightroom editing tools
Master detailed retouching techniques to smooth skin, make eyes pop, whiten teeth, & more.
Create your own presets to speed up the post-production process.
Fix over/underexposed photos, reduce noise, & fix lens distortion.
Organise catalogs, folders, & collections so you can find any photo instantly.
Export photographs for various different purposes.
Add watermark or signature to your photos.