PhotoWalk Nepal is pleased to announce Photo Contest 2017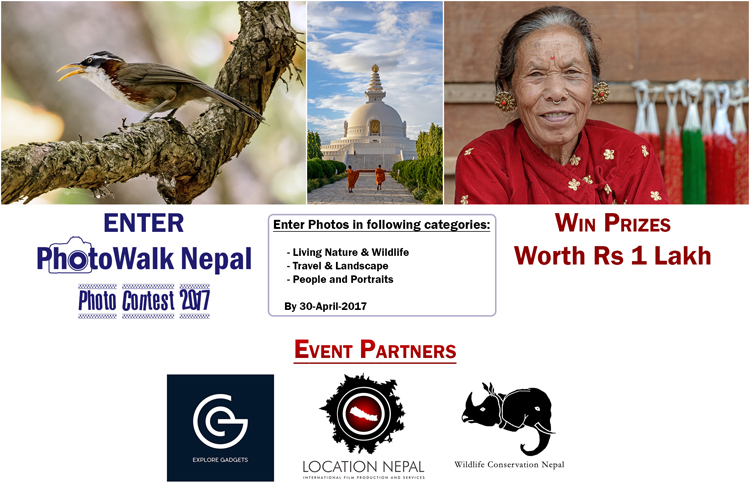 Who may enter
Any Nepali photographer who are at least 18 years of age, except members of PhotoWalk Nepal advisory team, employees of partner organizations and their relatives.
What to enter
Photographs in any of the following three categories:
Living Nature and Wildlife
Travel and Landscape
People and portraits
You may submit photos in any or all of the categories but the maximum number of entry per person is limited to three photographs.
Digital alteration and manipulation is acceptable as long as its not too obvious in the end result.
Photographs entered in the contest:
– must be an original work of the contestant photographed within the past three years,
– should not have been submitted to any other contests previously,
– should not have been published online or in print publication except in the contestants' personal portfolio,
– must have been taken in Nepal and
– must not contain any watermark.
How to enter
To enter the contest please send in your entries at a resolution of at least 8 megapixels in high quality JPEG format in email to photowalknepal@gmail.com along with the following details:
– your full name and contact information
– description for each entry including camera and lens used and date and location the photograph was taken
The last date of submission is April 30, 2017; entries received after midnight on that date will not be entered in the contest.
Prizes
Grand Prize: Rs. 15,000/- cash prize, 2 night/ 3 days trip to Chitwan, photographic and electronic gadgets; with a total worth of Rs. 100,000/-
Category winners: Rs. 15,000/- each
Grand prize winner and category winner photographs will be displayed during our photo exhibition at Babarmahal art council galley from 17-20 May, 2017
Prizes are not substitutable for any other item by winners and may not be transferred or assigned.
Judging
The photographs will be judged for adherence to theme, originality, aesthetics and technical perfection by the following renowned photographers of Nepal:
Mr Jagdish Tiwari
Mr Mani Lama and
Mr Nripa Dhoj Khadka
Usage rights and ownership
The ownership and copyright of the submitted photographs remain with the photographer.
PhotoWalk Nepal and the event partners will have a non-exclusive, perpetual, irrevocable, royalty-free license to use, reproduce, publish, adapt and communicate the photos in digital or print publication.
Event Partners
Explore Gadgets
Location Nepal
Wildlife Conservation Nepal